(High Density Polyethylene) HDPE 'T' Rib Liner Sheets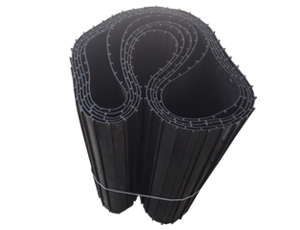 Our 'T' Ribbed HDPE Lining Sheets mainly being used for protecting Concrete from corrosion. HDPE 'T' Rib lining is flexible HDPE Sheet liner with T Shape locking extensions used to line RCC Pipes, Concrete Tunnels, Wet Walls, Manholes, Chambers, Wastewater Treatment plants and Canals.

PE T Rib Liner Sheets Specification: Thickness ranging from 1.00mm to 4.50mm. We can given these in Sheet form as well as in Roll forms duly welded also having Width 2.6mtr X Length 25mtr or Custom made.

(High Density Polyethylene) HDPE 'T' Grip Liner Sheets: Its main application is lining of Sewage Concrete Pipes and Tunnels used for West Water Management. Our T grip PE Liner Sheets are comes in a various colors including Black, Orange, Blue and also in Two color like Black and Grey etc.
Locking extensions liner will be integrally extruded with the sheet. Locking extensions shall be approximately 2.5 Inches (64mm) apart.
Sheets Specification:
Thickness ranging from 1.50mm to 5.00mm.
Width 2.5mm or custom made
Length 25mm or custom-made.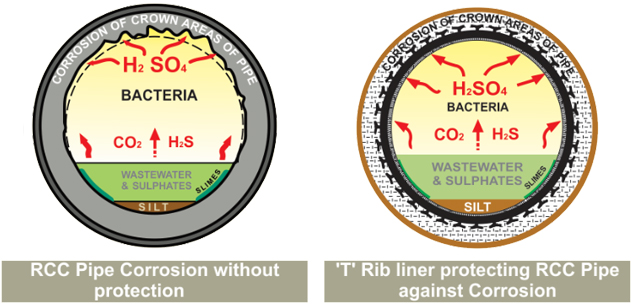 HDPE T Rib Liner has excellent resistance to Sulfuric Acid (H2So4) which gets released in Sewage pipe out of sewerage slim flow which is the main cause of RCC Pipe erosion. HDPE T Rib Liner Sheet has excellent resistance to major Acid and Solvents which make it an ideal liner for Chemical tanks.
HDPE T Rib Liner is thermoplastic material having excellent weld ability. It can be easily welded by Hot Air, Extrusion Welding machine, Butt welding and by Wedge Welding which provides it uniform and high jointing strength.