If the question is quality???
The answer is POLYCAN!!!
Established in 1965, MS M G M Brothers & M L M Trading Company set a revolution in manufacturing of leather aprons used in textile industries. The pioneers in Gujarat in its own state of art the company further gave birth to Polygrip International Products, which marched towards production of high efficiency energy saving nylon sandwich flat belts in the year 1987. The success story of the company helped it synergise its unit in the year 2001, manufacturing of "V-belts" aphetheting Polycan Extrusion Pvt. Ltd gaining the superhighway into global plastic market.
Polycan Extrusion Pvt. Ltd, the company with a multi enduring vision synchronized itself into total customer orientation through technologically advanced manufacturing unit & strategic know how. Polycan Extrusion Pvt. Ltd have come a long way to establish itself as probably a one-line version of Plastic Industry. New Products, innovative distribution and better use of technology that's the definition of Polycan Extrusion Pvt. Ltd.
The brand that's the foundation of consumer's choice. Polycan Extrusion Pvt. Ltd is synonymous to high quality plastic sheets. Polycan Extrusion Pvt. Ltd, the brand that shares the market of USA & Europe, the brand that has a prestigious image in Global plastic industry, the brand that defines quality as priority.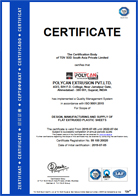 Product Profile
From Leather Aprons to Nylon Flat Belts to "V" belts to EVA Placemat, Polycan Extrusion Pvt. Ltd have come a long way offering numerous product mix in the wide market of Plastic Industry.
Products at Polycan are ecological and 100% recyclable. The products that are customized in accordance to the customer requirements. The products with enormous applications in textile industry, pharmaceutical, engineering, coal, building decoration, advertisement, refrigerator, automobile, train, packing, road construction lines & various industries.
Company Fact Sheet
| | |
| --- | --- |
| Year of Establishment | 1972 |
| Legal Status of Firm: | Partnership Firm |
| Income Tax Registration No.: | AAJFP1723C |
| Central Sales Tax No.: | 24571400159 |
| State Sales Tax No.: | 24071400159 |
| Import Export Code: | 0898001366 |