PP Manure Belt
Our Extruded White PP Manure Belt is extensively used for smooth removal of Manure from the Chicken Poultry Cage System. With the help of PP Poultry Belt the Chicken Cage Farm is maintained cleanliness by removing Manure of Chickens daily./p>
PP Manure Removal Belt Specification:
Thickness ranging from 0.50mm to 2.50mm.
Width 20 inches to maximum 79 Inches (2000mm).
Length is a custom-made in Roll form.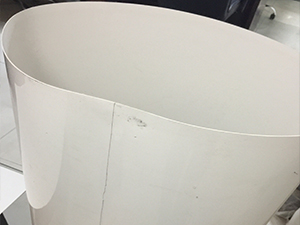 (Polypropylene) PP Manure Conveyor Belt Features:
PP Poultry Manure Belt having (Smooth Surface) very low Coefficient of Friction on the Top surface which helps in smooth removal of Chicken manure from the Poultry Cage System.
Polypropylene Manure Belt has very good low temperature resistance which makes it works well even up to the -50C.
Our Manure Belt Having excellent puncture resistance coupled with tensile strength.
It is a UV Stabilized Manure removal Belt for poultry farms.
PP Conveyor Belt comes in customize size in Roll form.