Cable Protection Tile

We are manufacturing STALWART WARTAPE High impact and low weight Polyethylene Cable Protection Cover or Cable Protection Tile to protect underground Utilities like High Voltage Electrical cables and Pipelines from Soil excavation tool or machines.
STALWART WARTAPE Cable Protection Cover is a marker tile laminated with Colored Warning Tape on top side printed with warning message for marking underground buried services, which quickly warn excavation crews of the existence of buried Cables or Pipes before damage can occur.
STALWART WARTAPE Cable protection covers can be manufactured as per the customer specification, in any languages and logo. We are capable of producing Cable Protection Tile having Width ranging from 100 mm to 1200 mm, Thickness from 6 mm to 12 mm and Length 1040 mm or custom made in any color with print and lamination on it.
STALWART WARTAPE Cable Protection Cover are pre drilled at both the ends and exceptionally easy to handle and install this makes it fully jointed, laid overlap and held firm with plastic pegs to ensure continuous protection to underground utility.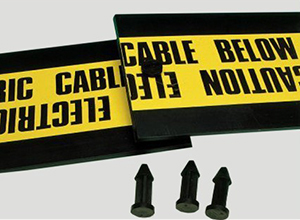 Specification:
Width Thickness Length
150 mm X 6.00 mm X1000 mm
200 mm X 6.00 mm X 1000 mm
240 mm X 6.00 mm X 1000 mm
300 mm X 6.00 mm X 1000 mm
450 mm X 8.00 mm X 1000 mm
300 mm X 8.00 mm X 1000 mm
200 mm X 12.00 mm X 1000 mm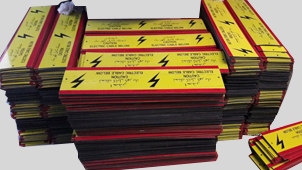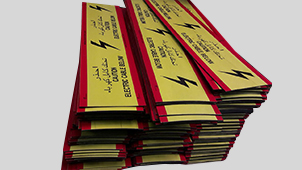 Custom Made